You want the home of your dreams and we can make it happen!
OUR GOAL WITHIN EACH PROJECT IS TO REFLECT OUR CLIENT'S PERSONALITY & LIFESTYLE, BY CAPTURING THEIR DESIGN Goals & MAKING THEM A REALITY.
DESIGN SERVICES THAT WE PROVIDE:
Residential Planning and Design
Color Consultation for Interior and Exterior
Space Planning and Placement
Project Management
Re-Design + Home Styling
Designer Discount Shopping
Product Research and Purchasing
Accessorizing
Strategies for De-cluttering
Our staff is capable of assisting and facilitating all of our projects from initial concepts to completion. We currently provide in-person design services in Maryland, Virginia and DC.
Here's how it works:
You choose the services you would like to receive and the result is an affordable package within your budget!
We Work remotely to completely transform 1 room
you send the measurements and pictures to us prior to the consultation call.
You Bring the design to life!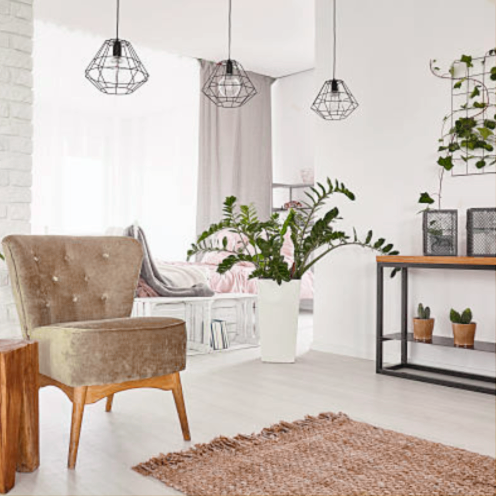 We create your custom design roadmap for 1 room with layouts, mood boards, and a click n' buy shopping list.
home consultation included.
you bring the design to life!
We transforms your space from idea to installation!
Home Consultation, Trade Discounts, and Installation included.
We Bring The Design To Life!
Please follow the link below to fill out all necessary information about your project. Once we look over each questionnaire, we will reach out to you to set up a consultation to discuss your dream home further.
After you submit the form, We Take The following steps to ensure the best design outcome, every time.
01. Initial Consultation
The process starts by us listening to you and this skill is something we pride ourselves in. Our objective during this visit will be to learn more about your design needs and get a clear understanding of your project's scope.
02. Contract agreement
We put all details covered in the initial consultation into this contract and send it over to you electronically. This will be a clear and concise document containing the scope of work including all that is to be completed and pricing.
03. Client Collaboration
In this phase, we'll work and collaborate with you closely to transform your style, design needs, and ideas into a refined concept.
04. Design Concept
Once the design concept has been established we'll expand and develop these ideas to fully design your spaces in detail.
05. Design Presentation
This is usually the most exciting phase for our interior design clients. We'll meet with you and will reveal your designed spaces.
06. Ordering & Purchasing
We'll work closely with the vendors to ensure all of your pieces are ordered to exact specifications. As always we'll share our trade discounts with you to stretch your design budget.
"A clear & purposeful physical space creates a clear & purposeful mental space. Your home should be your oasis. Where you can get away & relax from the stress of that day." - Sarah Antonieta
Designer discount shopping - $279
Our concierge shopping service can save you thousands and time. Get VIP customer service and access to our full trade discounts of up to 40% off.
Mood Boards - $75/Room
Visualize how all your room's pieces come together with a custom mood board.
Floor Plans - $100/Room
We create a scale drawing of your space so you can place everything perfectly.
Construction - $100/hr
If your project involves remodeling and working with general contractors during this phase, we will conduct site visits, keeping tabs on the progress of work being done to ensure your project is moving forward with perfect installation.
Project Management - $100/Hr
Sometimes you may need extra help for certain tasks that are not part of your design project. We can help you with these projects as well, based on our hourly rate.
Additional Hours
Once you've worked with us, you can add on extra time/pieces at our hourly rate of $175. In 1 additional hour, we can help with 1-2 more rooms or find 6-8 more pieces. Add on as you like to customize to your project.